Skip to Content
How to Replace a Bathroom Countertop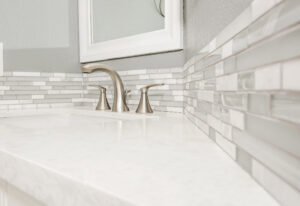 For homeowners in Northern Utah, a bathroom remodel can be an exciting project. One of the most impactful ways to update your bathroom aesthetic is by replacing the bathroom countertop or vanity top. With so many materials and installation options available, it can be daunting to even know where to begin. With Signature Marble and Granite, we make it easy. Our experienced team will work with you to ensure a custom renovation experience tailored to better meet all of your specific needs. Whether you prefer natural stone or manufactured quartz for your bath countertop, we have both materials available in countless colors and pattern combinations so that each customer can find exactly what they're looking for! In this guide, we'll give you all the information you need to know about how to replace your bathroom countertop.
Choose the Right Material
The first step in replacing your bathroom countertop is deciding which material is right for you. Popular options include quartz, granite, marble, and ceramic tile. Each material has its own pros and cons, so it's important to consider factors such as durability, maintenance requirements, and aesthetic appeal. At Signature Marble and Granite, we offer a wide selection of high-quality materials to suit your needs and preferences.
Measure Your Space
Before you purchase a new bathroom countertop, it's essential to measure your existing space. This will ensure you get the right size and shape for the new countertop. Measure the width and depth of your current countertop, as well as the distance between the sink and backsplash. This information will help you select a countertop that fits your space perfectly.
Hire a Professional
While it may be tempting to perform your bathroom vanity top replacement yourself, we recommend leaving this job to the professionals. Installing a bath countertop requires specialized skills and tools that the average homeowner may not possess. Our team at Signature Marble and Granite has years of experience fabricating and installing bathroom countertops, so you can trust us to get the job done right.
Prepare Your Bathroom
Before the installation process begins, it's important to prepare your bathroom. Clear out any belongings from the countertop and surrounding area. Turn off the water to the sink and disconnect any plumbing. If you have a backsplash, remove it carefully to avoid damaging the wall. Our team will take care of the rest, including removing the old countertop and disposing of it properly.
Enjoy Your New Countertop
Once the installation is complete, you'll be able to enjoy your beautiful new bathroom countertop! Take the time to appreciate the updated look of your bathroom and the functionality of your new countertop.
Call for A Free Estimate for Bathroom Countertop Replacement in Northern Utah Today!
Bathroom countertop replacement can be a great way to give your bathroom a fresh look and feel. By choosing the right material, measuring your space, and hiring a professional, you can ensure a smooth and stress-free installation process. Signature Marble and Granite is dedicated to providing high-quality bathroom countertop replacement services to customers throughout Northern Utah. Contact us today to see how we can help you transform your bathroom!