Skip to Content
How to Measure Countertops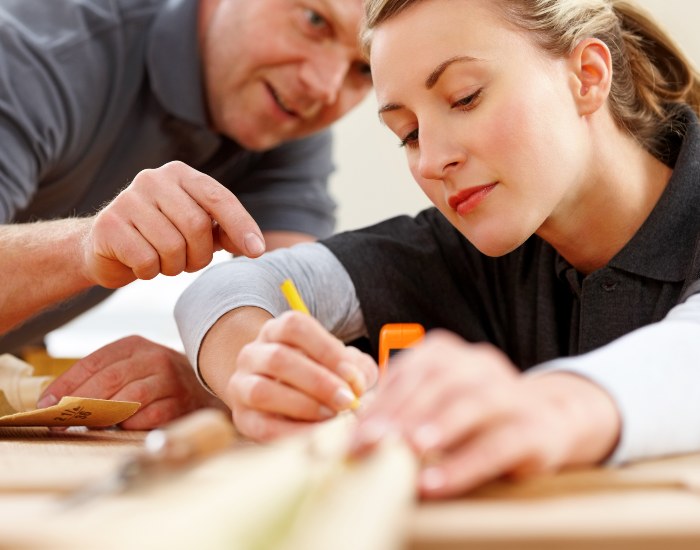 If you're considering installing a new countertop in your kitchen or bathroom, no doubt the first step is obtaining correct measurements. Inaccurate measurements can result in a costly mistake, so it's essential to get it right from the start. But where do you begin? No need to worry—we have all the information and tips you need here at Signature Marble and Granite! Our experts are here to offer guidance on measuring countertops, so let's take a look at what needs to be done before getting started.
Why You Need to Measure Countertops
If you've recently purchased a new kitchen countertop, you may be wondering how to measure it correctly. Knowing the exact measurements of your countertops can save you on costs associated with excess materials or needing to order more slabs. There are two options when it comes to measuring your countertops: you can purchase uncut slabs from a retailer and have them cut to the desired length on site; or work with a stone fabricator like Signature Marble and Granite in Utah, Salt Lake, and Davis Counties, who will pre-cut the slabs for you and have them ready for installation.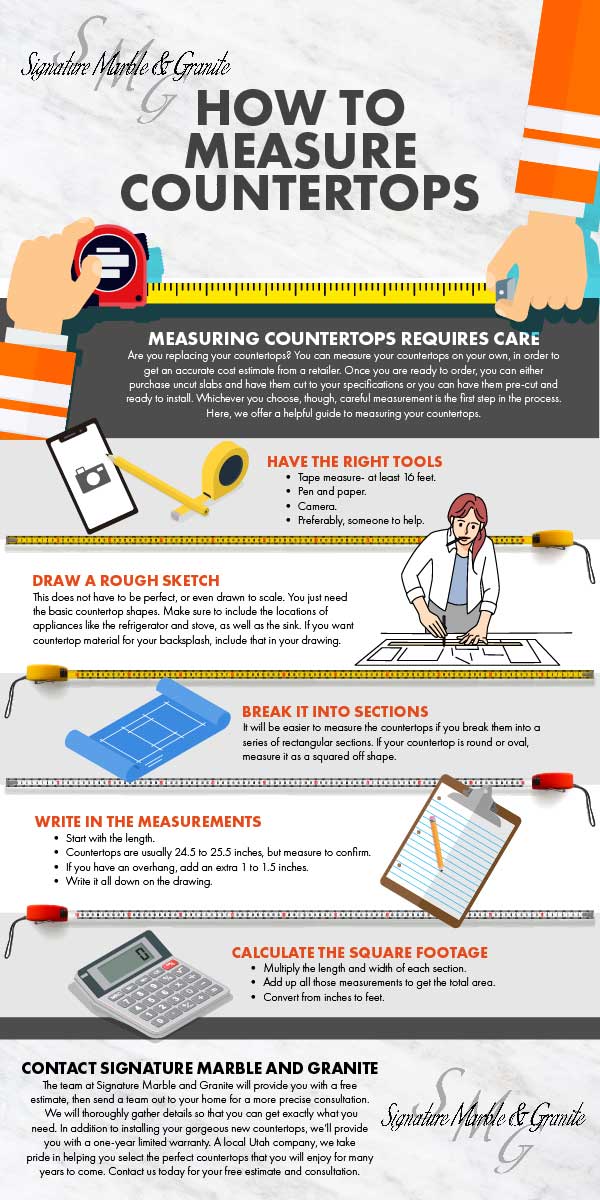 Tools You Need
Before you get started, make sure that you have all the necessary tools available for accuracy—a tape measure, pen, and paper (or note-taking device), a camera (to take pictures of any tricky angles that need extra precision), and either a drawing or sketching app. When taking measurements of your existing countertop, always measure twice just to be sure that the numbers are accurate!
Measuring Your Countertop Length and Width
The length and width of your countertop should be measured in inches using a tape measure. Start at one corner and measure across the top of the countertop until you reach the opposite corner. This will be your total length measurement. For width, start at the same corner used for length measurement and measure from there along the edge of your countertop until you reach the next corner. Write down each measurement as accurately as possible; round up if necessary for more precise results when ordering new countertops. Keep in mind that measurements must include any overhang beyond your cabinets or walls.
Measuring Your Countertop Depth
Countertop depth measurements should also be recorded in inches using a tape measure starting from the top of your current countertop surface down to where it ends (usually on top of your cabinet). Most standard counters are between 25-30 inches deep, but this measurement can vary depending on individual needs or preferences. If your existing counters have an overhang, make sure to include that additional depth when taking measurements for an accurate estimate from Signature Marble and Granite!  Include pictures of your countertop for reference.
Contact the Pros at Signature Marble and Granite for Help Measuring Your Countertop!
From beautiful countertops to masterful backsplashes, we know you want the best options for your home. At Signature Marble and Granite, we understand this and make sure to meet even the highest standard. We specialize in taking exact measurements to ensure your custom countertop is perfect even down to the most intricate details. Our team of professionals are here to make your vision a reality and will happily help you create a breathtaking workspace or living area with our quality products and services. Visit us online today! Contact us so that we can answer any questions before starting on your project. With us, it's always 100% satisfaction every time!