Skip to Content
What Is Considered the Standard for Granite Countertop Thickness?
How Thick Should My Granite or Marble Countertops Be
When it comes to remodeling their homes and kitchens, people frequently go for granite countertops first. They are highly attractive and tough. You must have thought about every detail for your next overhaul, including color, vein patterns, and orientation. But have you ever considered the typical thickness of granite?
Your kitchen's overall look might be influenced by the granite countertop thickness. While some designs appear best with thick granite slabs, others work well with thin counters. Consider the thickness of the granite stone when choosing a design. Here is a useful manual that we put prepared for you to assist you.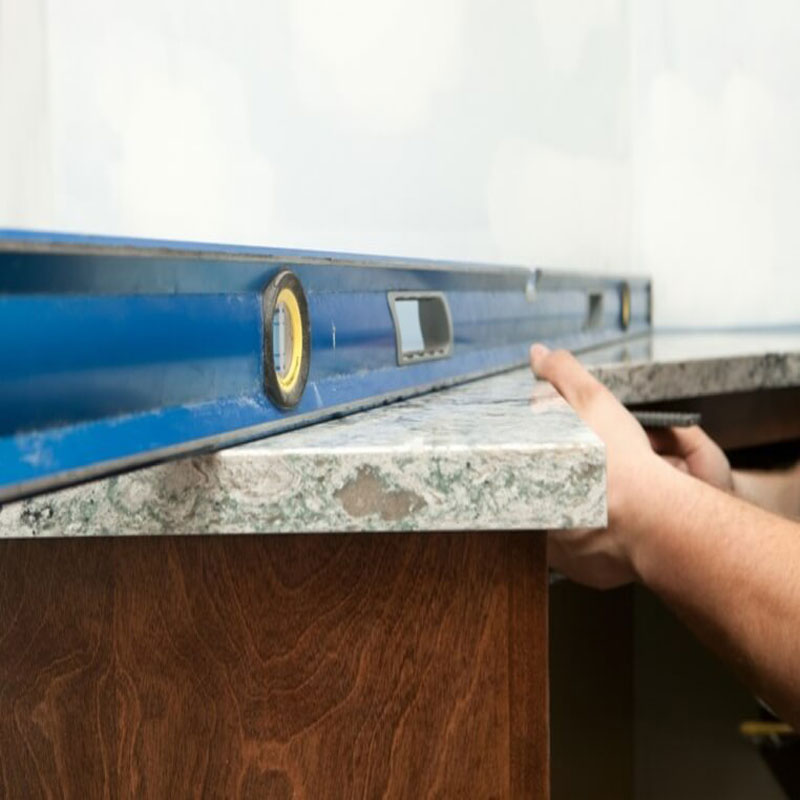 What Are My Options?
The most common option (and previously the sole one) for homeowners when it came to the standard thickness of granite countertops was 2 cm granite thickness. But the fashion for kitchen design is always changing. These days, thicker countertops, including those made of 3 cm thick granite, are very popular. However, what do they contribute? Let's examine each one individually.
Granite countertops with a 3 cm thickness are currently considered to be the industry standard. Due to their increased attractiveness, thicker slabs are now preferred by many homes. Since they no longer need to be strengthened with plywood during installation, they also require less labor.
Granite countertops with a 2 cm thickness often take extra effort since they frequently need certain slabs to be thinned out and because they need to be reinforced during installation to prevent drooping or cracking.
2 CM or 3 CM?
Certainly, each countertop thickness option has advantages. Make sure to take design, price, and availability into account while choosing one. For example, 2 cm thick countertops frequently appear fantastic when included in bathroom designs. Since most producers can easily access them, they also frequently cost less. On the other side, kitchen designs that demand more durable counters, such as 3 cm thick granite countertops, look beautiful. However, because they need more materials and are less common, they do tend to cost more.
What Influences Durability & Thickness?
There are a number of variables that will affect the thickness you select for a marble or granite vanity top. First, the design you choose for your kitchen and bathroom may have an impact on your choice. Modern, minimalist, and contemporary designs all look great with thicker vanity tops and counters. A significant factor will also be the shade of marble or granite that you have in mind. Darker marble and granite hues are often simpler to locate in a thicker selection than lighter colors occasionally are. Finally, your selection will be influenced by your budget because thicker granite or marble requires more material and costs more.
We're Here to Help
Because it can affect the cost and overall appearance of your design, the thickness should be one of your concerns when remodeling your kitchen. In other words, since thicker countertops require more material, they will cost more. However, due to durability difficulties, thinner countertops can wind up costing you more over time. Before settling on a certain style, be sure to carefully analyze the factors we outlined above in order to make the best choice possible and stay with it.
Are Other Options Available?
You may shave off more than 2 cm. In fact, some prefabricated countertops have a thickness of just 1 centimeter. But always remember that you get what you pay for. Prefabricated countertops are less sturdy and more prone to breakage, which is one reason why they are so inexpensive. Thin countertops need extra support, especially for the overhang, because they are so delicate. Make sure to take that into account as well because some materials work better for thin counters than others. Due to the availability of particular slabs, color matters for certain designs. Make sure to keep an eye out for darker hues because they are frequently offered for thicker cuts. Bring a sample of your cabinets' color to the manufacturer if you're unsure of what to pick so they can advise you on colors that go well with your cabinets.
Contact Us Today
Our artisans are among the most thorough in the industry. To save time and money, other contractors make compromises. Every project is given the attention it deserves to be a masterpiece for the home. It is a part of our continual effort to raise the bar for the sector. As we work together to design and create our clients' new kitchens, bathrooms, or patios, our clients gain knowledge about masonry. With a free estimate and consultation, the adventure begins.
Due to the meticulous design process used by Signature Marble and Granite, our work was given the pleasure of being included in Utah's Parade of Residences, a display of magnificent homes. We specialize in offering each client that caliber of superior quality. We first have a meeting with the customer to go through their preferences and ideas. We can provide guidance on choosing materials ranging from marble to quartzite. Customers are welcome to travel to the quarry with us in order to choose their new marble or granite countertops straight away. Our crew will cut, shape, polish, and finish the stone before it is installed once the material has been decided upon and the project has been developed. We create the kitchen of your dreams.