Skip to Content
What's the Right Choice of Material for Kitchen Counters?
What Kitchen Countertop Material Should I Choose?
Materials for kitchen countertops are important in any kitchen. We expect kitchen countertop materials to be strong, simple to clean, stain, scratch, and heat resistant because they are the hardest working component and serve as the primary location for food preparation, eating, and frequently hosting guests. In addition to all of this, we also desire gorgeous countertops. It may seem difficult to choose the ideal material for kitchen countertops for this reason.
Custom countertops are a specialty of our meticulous artisans at Signature Marble and Granite in Northern Utah. We collaborate with customers to turn their vision into a reality when installing a countertop, backsplash, or other stone items. Our staff wants to collaborate directly with clients, even though we have top-notch designers who can produce and install a gorgeous block of granite or marble with little to no involvement. When we assist with an installation, we consider the client to be a member of our design team. Even better, we invite them to choose the stone for their new countertop by visiting the quarry in person.
What Is the Absolute Best Countertop Material?
The countertop material that meets all of your demands and facilitates food preparation is the ideal choice. Kitchen countertops must be made of materials that satisfy a number of requirements since they are a crucial component of a functioning and efficient kitchen. When choosing the ideal kitchen countertop material for your kitchen makeover, consider these qualities: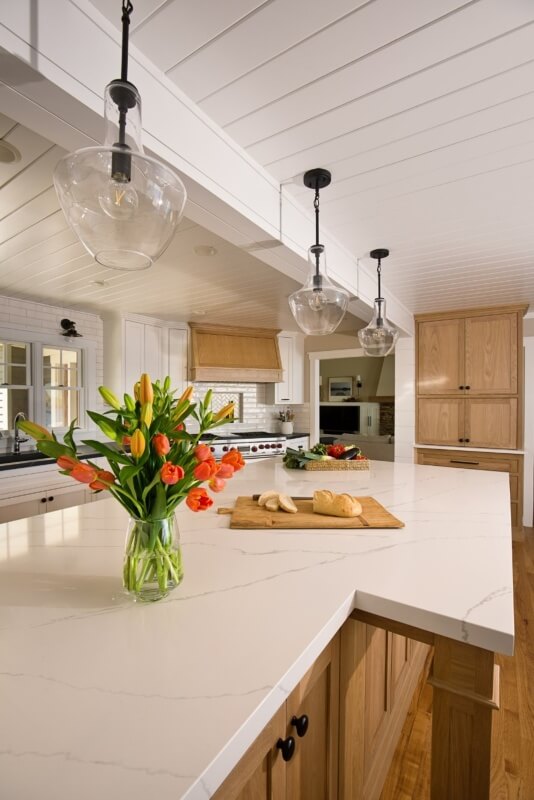 Stain Resistance
One of the most crucial characteristics for consumers to seek in the best kitchen countertop material is stain resistance. Quartz countertops and properly treated natural stones are very stain-resistant. Always keep in mind that claims that a countertop material is "stainless" are untrue. Natural and manufactured stones that have been properly treated are stain-resistant but not completely stain-proof.
Heat Resistance
Granite and other natural stones, quartz, copper, terrazzo, stainless steel, aluminum, and concrete are heat-resistant materials for kitchen countertops. These materials are quite good at withstanding heat, and hot pots and pans won't damage kitchen counters constructed of them. No matter what material your countertop is constructed of, it is essential to treat it gently.
Scratch Resistance
Laminate, soapstone, and limestone counters are all readily scratched by sharp knives. Concrete, marble, and recycled glass all crack. Be mindful that drops and clunks can harm counters made of glass and tile. Quartz and granite are the best materials for countertops that are scratch and chip-resistant.
Maintenance
You will need to clean your kitchen as frequently as you use it. However, certain countertop materials for kitchens demand more work than others. To determine how much upkeep various types of kitchen countertop materials require, compare the materials. Ask your local countertop fabricator before remodeling your kitchen how quickly a countertop will collect stains or how frequently it has to be sealed.
Aesthetics
You have a ton of wonderful options to pick from depending on the style you desire for your kitchen. The ideal possibilities for you may be granite countertops if you adore the distinctive appearance of genuine stone. Each granite slab is unique and offers a distinctive appearance in both conventional and modern kitchens. It is available in endless patterns and color combinations. Quartz countertops are a terrific option if you want a sleeker, more modern appearance. They give your kitchen a consistent appearance and may also add natural stone tones to it.
Top Countertop Materials
At Signature Marble and Granite, we have a wide variety of materials to choose from for your home's kitchen countertops
Our talented designers would gladly work with you to achieve your desired appearance. Simply inform us of your desired level of design and sturdiness, and we'll create a distinctive countertop to finish off your room. Choose from one of these common kitchen and bathroom countertop materials:
Marble
Marble represents enduring elegance. The benchmark for worktops in kitchens and bathrooms is the stone's textural beauty. Marble is a material that no one ever regrets choosing. If properly sealed, marble is resilient and stain-resistant. Due to its heat resistance, marble is perfect for kitchens. It can survive freshly baked cookies in hot pots and pans.
Granite
Granite is a widely sought-after stone that complements almost every design style. Granite is a great choice if durability is important to you. These countertops are renowned for withstanding various nicks, chips, and harsh blows. You can be certain that your place is unique because each granite slab is different. Pick from a variety of hues and textures.
Quartz
For customers seeking a countertop that is both enduring and fashionable, a bespoke quartz countertop is ideal. Quartz isn't permeable, making it difficult to discolor and simple to clean. Compared to marble and granite, quartz is a highly beautiful alternative and comes in a wider range of colors. Quartz is simple to keep clean and maintain, and you probably won't need to spend money on repairs or replacements for a very long time.
Porcelain
Countertops made of premium porcelain are a great choice that combine beauty and practicality. These gorgeous surfaces are heatproof, scratchproof, and maintainable. Porcelain is as robust and durable as marble and granite for the majority of everyday use. Additionally, porcelain is typically less expensive than marble or granite. One of the least absorbent varieties of stone, it is very impenetrable to water damage and staining. Any bathroom or kitchen will seem clean and fresh thanks to the smooth white or off-white textures.
Quartzite
One of the main distinctions between quartz and quartzite is that the former is a naturally occurring stone, whilst the latter is a manufactured one. Customers who select quartzite discover that it produces a look like marble. But because quartzite is more durable than marble, it is frequently the best option for customers who want the traditional appearance of marble in a busy location. High temperatures won't harm quartzite, not even when applied directly. Quartzite's elegant, marble-like look is what makes it one of the most attractive materials for kitchen countertops.
Let's Get Started
Best-in-class custom countertops are yours when you pick Signature Marble and Granite. We even invite customers to travel to the quarry and choose a stone slab for themselves since we really think that you deserve the best materials available. Our skilled designers are available to hear about your preferences and realize your vision. Following your selection of material, we will handle all of the cutting, shaping, polishing, and finishing. To find out more about our gorgeous, long-lasting countertop materials, get in touch with our Northern Utah staff right away.
Get Your Free Estimate and Consultation Today