Skip to Content
Why Would You Choose Quartz Over Natural Stone?
Quartz vs. Natural Stone Countertops
Your first choice will likely be whether to use natural stone or quartz for your new project if you're looking for new, reasonably priced countertops. There are several significant distinctions between these two possibilities, some of which you may or may not have been aware of before.
Large crystals or tiny, sand-like grains of quartz are what it looks like in its natural condition. After being mined, the stone is blended with man-made elements, like resin, to increase its scratch and stain resistance and allow for a smoother cut. Due to its enduring qualities and antibacterial, nonporous characteristics, quartz is one of the most often used materials for countertops and backsplashes.
Natural stone is quarried directly from the earth, as the name implies. Natural stone is unique and unlike any other material! Quartz can only imitate the unique and raw patterns found in natural stone, such as marble or granite, by artificial means. Natural stone is the best option if you want a truly distinctive and eye-catching piece of stone.
We'll go over the pros and cons of each stone type to help you determine which is right for you. As always, if you have any questions or are interested in beautiful granite, stone, or quartz countertops, contact our expert team.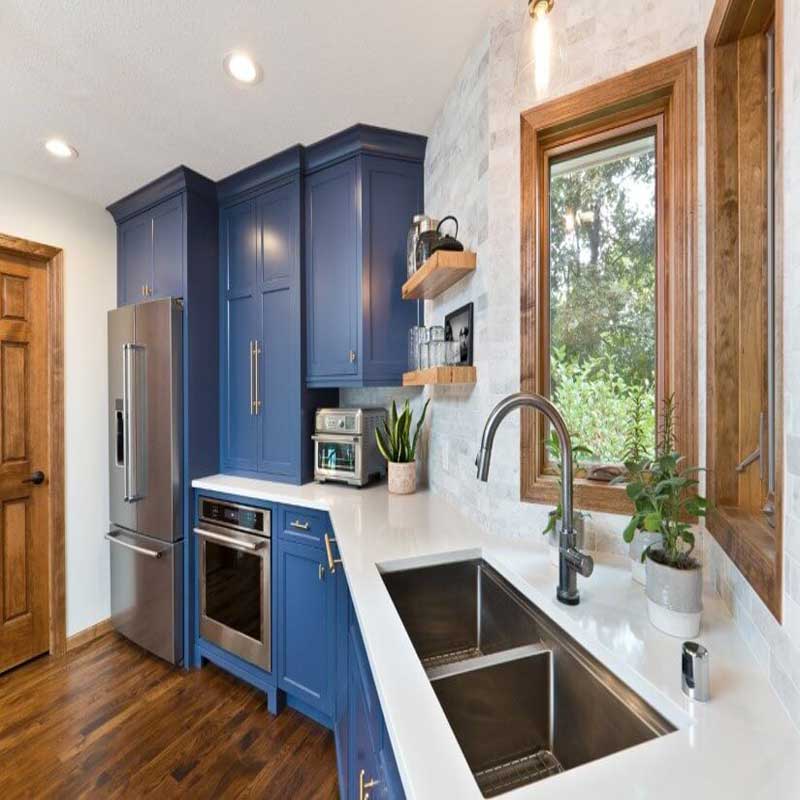 Durability
Natural stone is said to be more fragile than artificial quartz in terms of durability. In addition to being more porous by nature than quartz, natural stone may also absorb liquids in the case of a spill. You must understand how to properly seal and care for your natural stone countertops before introducing natural stone into your house. Unless the surface has seen severe wear and tear, sealing should be done every one to two years. Acidic spills like those from juice and wine also have an impact. In order to prevent the stone from becoming permanently damaged, spills must be cleaned up right away.
Installing a quartz countertop will give you a very durable surface that will withstand years of use by your active family. It is resistant to stains and water damage, and since it is waterproof, it is also resistant to scratches and chipping. In reality, this is among the primary justifications for choosing quartz countertops. You should still use cutting boards, clean up spills immediately, and use trivets to guard against hot cookware and dishes because they are not fully unbreakable. Manufacturers provide strong guarantees against manufacturing flaws and damage because quartz countertops are so durable.
Additionally, because quartz surfaces are more flexible, they are less likely to chip or shatter. Quartz is nonporous and never has to be sealed. An almost maintenance-free kitchen work surface is provided by these stones! Quartz countertops can sometimes be thought of as stainless because of the resin they contain.
Aesthetics
Real quartz crystals, along with other minerals and colors, are used to create quartz countertops, which are fabricated surfaces joined by a resin. As a result, each component is identical. You can be confident that the quartz countertop you ultimately choose will brighten & dazzle once installed in your kitchen or bathroom. Natural materials like marble or granite don't work like this. Between slabs, patterns and hues, like the veins in actual marble, can differ greatly. You must visit the slab yard and choose the specific piece you want to purchase in order to achieve the precise appearance you desire. Otherwise, the final product can differ significantly from what you had in mind.
Bottom Line
In terms of aesthetics and design, natural stone vs. quartz has both advantages and disadvantages. Your new countertops or renovation project are entirely up to you and your unique preferences or ideas! The decision between Natural Stone and Quartz for your countertops might depend on your personal preferences, financial situation, and lifestyle requirements. Some homeowners will advise you that you should only choose quartz, while others will swear by natural stone. Whether you want granite, marble, or quartz, we have a large selection of lovely, uncommon solutions for budget-friendly countertops.
Ease of Maintenance
How much maintenance it will require should be one of your top concerns when choosing a countertop. Natural stone countertops require frequent sealing, regardless of how tough it is to keep them at their best. Stone countertops are porous and vulnerable to water damage and stains if they are not sealed. This issue doesn't exist with quartz. Since it is always watertight and nonabsorbent, it never needs to be sealed. Additionally, neutral pH cleaners made especially for natural stone countertops are required for cleaning them. Any gentle, nonabrasive cleaner will work with quartz.
Why Choose Signature Marble and Granite for Your Quartz Countertop?
Lehi, Northern Utah, Orem, Provo, and the surrounding areas may get inexpensive quartz countertop installation services from Signature Marble and Granite. In addition to stunning and opulent sinks, faucets, and backsplash tiles, we also offer granite and marble countertops if quartz isn't the best option for your house. Our team of knowledgeable and skilled installers is with you every step of the way. In order to assist you in deciding how we can create the kitchen or bathroom of your dreams, we begin by giving you a free estimate and offering to visit your house. Following that, we'll construct your custom countertops or other home improvement goods and install them as desired.
Contact Us Today
In the Northern Utah region, we'd be pleased to provide you with a free estimate for your new quartz countertops. Make a call to us right away to begin building your ideal kitchen. When we assist with an installation, we consider you to be a member of our design team. Even better, we invite them to choose the stone for their new countertop by visiting the quarry in person. If you have any queries regarding how to maintain and clean your countertops, we are also here to help. We would be pleased to repair or replace your countertops if you had previously hired another business to install them.
Get Your Free Estimate and Consultation Today