Skip to Content
How to Clean Quartz Countertops in Northern Utah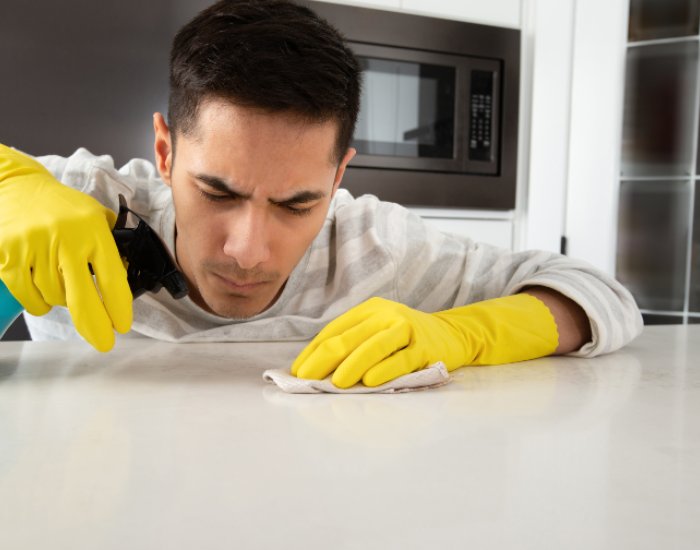 For many homeowners, quartz countertops are the perfect choice for creating a stylish and contemporary look in kitchens, bathrooms, and other living spaces. Not only do quartz countertops deliver a stunning visual impact with their varied shades and textures, but they also require very little maintenance to keep looking beautiful. If you've recently purchased quartz countertops from Signature Marble and Granite in Utah or are considering adding them to your home décor, then learning how to properly clean quartz countertops is essential for extending their lifespan. Below are some quick cleaning tips that will help keep your quartz counters looking pristine year-round!
Best Cleaning Products for Quartz Countertops
When it comes to cleaning quartz countertops, Barkeeper's Friend is the main cleaning product we recommend. Barkeeper's Friend is a multi-purpose cleaner that is safe to use on quartz surfaces and will leave them looking clean and shiny without damaging the surface. Additionally, warm water with a gentle soap like Dawn dish soap can be used to clean up any spills or messes.
What Not to Use on Quartz Countertops
It's important to note that there are certain products that should not be used on quartz countertops as they can cause discoloration or damage the surface. These include bleach or other harsh chemical cleaners such as oven cleaners, drain cleaners, etc. Furthermore, while quartz resists most detergents, acids such alcohol or citrus-based cleaners should always be avoided. Additionally, abrasive materials such as steel wool or scouring pads should not be used as they can scratch the surface of your quartz countertop.
Do Quartz Countertops Stain?
Quartz is non-porous so it won't absorb liquid like other types of stone surfaces can; however, it can still accumulate dirt over time if not properly cleaned on a regular basis. Additionally, staining can occur if you use certain acidic substances such as vinegar or lemon juice on your quartz surface—so avoid using these products when cleaning your quartz countertop. If you do notice any stains on your quartz countertop, we recommend reaching out to Signature Marble and Granite for professional advice before attempting any spot cleaning methods yourself.
Keep Your Quartz Countertop Looking Amazing: Avoid Heat Damage
Quartz countertops are made from natural stone mixed with polymers and resins to make the surface tough enough to withstand everyday use in the kitchen. However, these resins cannot withstand extremely high temperatures without melting or becoming brittle. The best way to protect your quartz countertop from heat damage is to always use a trivet or hot pad when placing any hot pots or pans onto the surface. These items will disperse the heat evenly so that it does not concentrate in one area and cause damage.
Contact Signature Marble and Granite Today for More Tips!
Properly caring for your quartz countertop will keep it looking beautiful year after year! Follow our tips above when choosing which products to use when cleaning your quartz countertop. And remember that if you ever have questions about how to care for your counters properly contact Signature Marble and Granite in Utah, Salt Lake City, and Davis Counties—we make your home design dreams a reality!